Affiliate Marketing Demystified
If you are an entrepreneur like me, you have probably seen affiliate programs online or had offers to join. In addition, if you are a dummy like me, you probably think affiliate marketing sounds like a good idea, but you do not know for sure. In this 'Affiliate marketing demystified' blog post, I want to figure out what affiliate marketing is and how it works, where to get started and what the pitfalls are. If you are looking for personal best practices, you will not be getting any tips from me, as I am by no means an expert. The tips and resources I list, however, may give you what you need.
Affiliate marketing demystified: what is affiliate marketing?
Entrepreneur.com defines affiliate marketing as "a way for a company to sell its products by signing up individuals or companies ("affiliates") who market the company's products for a commission."
They say that there are two ways to approach affiliate marketing:
1) Offer an affiliate program to others. You will pay your affiliates a commission fee for every lead or sale they drive to your website. Your main goal should be to find affiliates who will reach untapped markets.
2) Sign up to be another business's affiliate. It is all about extra revenue. Think about your customers' needs: what other products or services would interest your site visitors? Join those affiliate programs. They can increase your sales with no upfront cost to you.
This two-minute video of Avantlink provides a short and informative overview of affiliate marketing.
Affiliate marketing demystified: how does it work?
Rae Hoffman has created a step-by-step infographic of how basic affiliate marketing works.
Click here to view a larger version.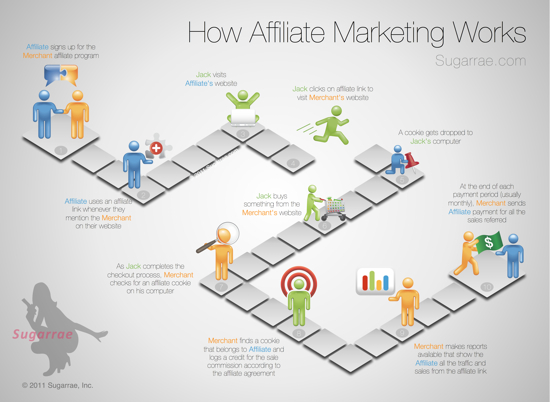 Affiliate marketing demystified: where to get started
Mitz Pantic has been doing affiliate marketing for a while now, and she has created "the ultimate guide" for beginners. In short, these are her steps (read the guide for more information):
Get Serious First
Get Paid To Grow Your Own Business
Make The Future Your Goal
Build a Website VS No Website
Choosing a Niche
Stick to What You Know
Buy Hosting
Now Build a WordPress Website
Affiliate Marketing For Beginners – What to Sell
Where To Find Affiliate Products
Nothing But Useful Content
Build Pages and Then…
Then Do It Again
The Hunt Must Go On
Make Every Visitor Count
Sell To The Right People
In addition, she has a list of resources about blogging, WordPress plugins, hosting, business books, SEO & marketing tools, email marketing, affiliate networks, monetization, social media tools, selling products and running your business. If you want to take her first step of getting serious, this website might be a good start.
Affiliate marketing demystified: what to watch out for
If you google affiliate marketing, you will see many promises that sound too good to be true and warnings. Apparently, there are quite a few affiliate-marketing scammers out there. Therefore, you need to do your research about a program and its methods before signing up.
One discussion took place on VentureBeat.com, where Ruslan Kogan posted an article about his less-than-rewarding experience with affiliate marketing and visit to Affiliate Summit, called The big, ugly affiliate marketing scam, and Tricia Meyer posted a response called Sorry, affiliate marketing actually isn't a (big ugly) scam.
Kogan said that
"of all the traffic our affiliate network sent to us that had made a transaction, only 1.68 percent had not been to our site before. This is more than 95 percent lower than our site average. Of anyone coming to our site through an affiliate network, there was a 98 percent chance they had been to our site before. It is the equivalent of paying a salesperson a commission to go out there and sell to people in your store that are already lined up in the checkout queue ready to make a transaction. The affiliates are claiming commission on a sale that was going to happen anyway, and they did not provide any value to anyone at all."
Affiliate marketing demystified: 4 accusations
Tricia Meyer, an affiliate marketer and consultant, addresses four accusations.
Affiliate marketing is a scammy MLM pyramid scheme:
"There is no pyramid at all in affiliate marketing. In fact, it is not even in my best interest to encourage other people to be affiliates because it just creates more competition for me."
Coupon sites are fraudulent because they steal sales:
"The problem with this blanket statement is that so many factors are not taken into consideration. Coupons can create a sense of urgency to buy when an end date is looming, they can increase the average order value when a minimum purchase amount is set, and they can even give the customers a better feeling about the company because they perceive that they are getting a better deal."
The FTC hates affiliate marketers because we sell fake drugs:
"The majority of the affiliate space has nothing to do with Acai, Viagra, or diet pills. The FTC merely wants us to be honest in our advertising because in a quickly changing electronic space, it can be hard to separate advertisements from testimonials. That does not make them illegal or a scam; it just makes them a new frontier."
Affiliate summit is a meeting of shysters:
"Affiliate Summit is loaded with people who are in it to do the right thing. Pat Grady of RhinoFish was awarded the Affiliate of the Year Award this year and is one of the most ethical people in our industry. BrandVerity always attends, and they are known for helping merchants protect their brands and images. Every year there are sessions from attorneys on compliance and trademarks and disclosure. This year I am even speaking on a panel about what we can all do to prevent fraud."
It seems to me it is just like with anything else: if it sounds too good to be true, it probably is. Be wise and do your research.
Affiliate marketing demystified: 4 myths busted
Writing professional Steve Olenski writes about four myths about affiliate marketing that are not true.
Affiliate systems are quick and easy to manage.
An affiliate marketing program is a lot of work. In most situations, there is a lot of competition so you are not going to be bringing in money immediately. According to Three Ladders Marketing, only 0.6% of affiliate marketers surveyed have been in the game since 2013. That means that affiliate marketing takes time and effort to build and make money. The affiliate marketing business relies on fostering relationships. You foster these relationships by bringing the right partners into your program, seeking out better and more efficient partnerships, updating your content regularly to keep things new and fresh.
You need to work in a very popular and lucrative niche to make affiliate marketing work for your business.
It is true that popular niches do better with affiliate marketing, but that does not mean you do not have a chance at success. Stay in line with the goals and mission statement of your company, and find affiliates who understand the relevance of working in a market where you are comfortable.
Affiliate marketing is a strategy of yesterday.
Due to Google's new algorithms for SEO, link building is becoming outdated. However, there are many new ways to use SEO and build your brand. Affiliate marketing still makes sense to Google as it offers another relevant and related resource to consumers.
Success in affiliate marketing comes from getting your product on as many sites as possible.
The best way to think about affiliate marketing is quality over quantity. The key is finding a small number of partners that will deliver conversions. The real deliverables will be dependent on locating the right affiliates, big or small, which drive results.
The main thing that I get from this is that affiliate marketing should not be viewed as a practice to make money quickly. You will need a lot of patience and skills to make it work.
Affiliate marketing demystified: 7 beginner mistakes to avoid
Jennifer Ledbetter has listed seven mistakes that beginners tend to make, just as she did. Try to avoid them when you go ahead with affiliate marketing.
Selling rather than helping.
Your job as an affiliate is not to sell; that is the job of the sales page our affiliate links lead the reader to. Instead of screaming "BUY THIS NOW," try writing a review. Help the reader learn why they should have this product. When you talk more like an unbiased reviewer rather than a high-pressure salesperson, you will find you make more sales and people will come back for advice on other products in the future.
Joining too many affiliate programs.
While she believes in cultivating multiple streams of income when working online, there is a point where you have too much to deal with and it becomes unmanageable. Do not overload yourself.
Not testing.
Put yourself in the shoes of a potential customer and opt-in to test the vendors' follow up sequence. Nothing breaks a reader's trust more than being led to a promotion that will blow up their inbox.
Not tracking.
When you make a sale, you want to know where the sale came from. This enables you to know which pages are converting well so you can grow and scale that campaign.
Not comparing.
Compare the "main" product with two other similar products. When people are in buying mode for a physical product, they tend to have their options narrowed down to 2 or 3 and they need help making the choice that is best for them. Help your readers make a choice; while you do so, you also have affiliate links there for three products instead of only one.
Make money online products.
If you are new and you want to promote products in the Make Money Online arena, do not make false claims that it made you tons of money. In fact, do not make false claims at all! Talk about the benefits of the product/training, but do not try to trick people. You will ruin your credibility.
"Oh Look! A Butterfly!"
It is all too common to be working on one thing when all of a sudden, something "shiny" comes through your inbox or is mentioned in a forum you frequent. Then off you go chasing some new idea to make money online. Ignore these "butterflies;" they will just distract you from your project/campaign at hand. In fact, one completed and profitable campaign is worth so much more than fifty half-finished campaigns or projects.
What can I do for you regarding affiliate marketing?
As you can see in this 'affiliate marketing demystified' blog post, affiliate marketing is all about content. In short, you need to publish high-quality web pages or blogs in order to have a place for your affiliate links. If your content is in a language your audience does not understand, it raises an unnecessary barrier. Translations help you expand your reach. I am the owner of translation agency BudgetVertalingOnline, which offers affordable translations into English and Dutch. Hence, I can help you if you want to reach a bigger audience. Want to get in touch? Send me an email (info@budgetvertalingonline.nl), send me a Tweet (@GdenHolder) or fill out the quotation form.
It would be really nice if you shared my blog on your social media! Please use the buttons below.